Today i will tell you that how to disable blue ticks in WhatsApp - but if you do this, then you won't be able to see the receipts either. If you want to check other people see your messages, then you need to allow them to see read receipts from you also. For now, this is only possible for Android users, and only if you manually update the app via the WhatsApp website. WhatsApp typically releases updates first via its website, and then rolls out the update for Android's Google Play store, followed by updates for other platforms, so the update will be available for all devices soon.The first step is to get the latest APK file from WhatsApp:
Also see: read your friends whatsapp message
First Download the latest (version 2.11.444) of whatsapp which is WhatsApp apk from the official website.
Then after On your Android phone, go to the option Settings > Security > Check Unknown sources, to enable installing apps from outside Google Play. Note that the exact path to the setting can vary depending on your device manufacturer and Android version - the important thing to note is that you enable installing apps from unknown sources.
Open the whatsapp apk on your Android phone. This will install the latest version of the whatsapp app on your device.
Once the app is installed, here's how to disable read receipts:
Open WhatsApp and tap three vertical dots icon on the top right.
Now go to Settings > Account > Privacy.
Uncheck Read receipts.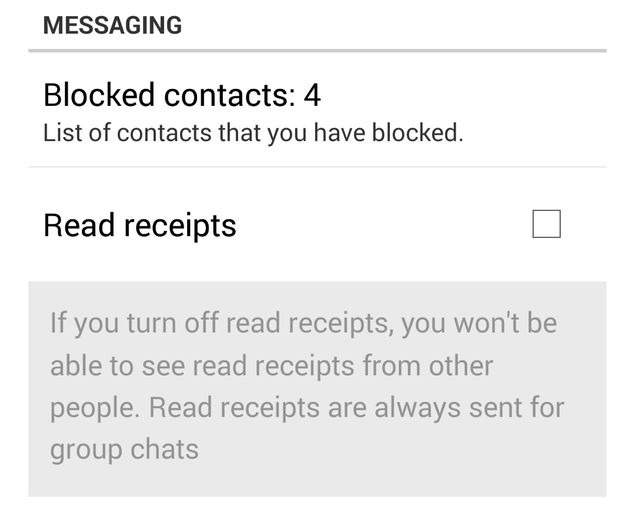 That will disable the blue ticks on WhatsApp. As we noted above, feature isn't available on other platforms or on Google Play as yet, but now that this feature has appeared on the official WhatsApp apk, we can hope that an update will bring it to all platforms. We will update this article when that happens. Until then, you can head to our How To section for more tutorials.
Also see:use whatsapp without any mobile number
Also See: two Whatsapp Account in single phone
(one answer for lots of question :- How To Turn Off Whatsapp Blue Tick Marks, disable whatsapp bluetick mark, how to remove whatsapp read blue tick mark, whatsapp bluetick mark, remove whatsapp tick mark.)